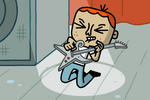 Edgar Zimmer is a 12-year-old boy who enjoys eating chocolate and loves pulling pranks on his older sister Eva. And his cat 13. Here is his things:
Favorites
Edit
Spaghetti and meatballs (according to Zimmer Twins)
Eva and 13
Pranking and eating chocolate
Being Psychic
Psychic Power
Edit
None have been listed.
Daily Life
Edit
Hates
After-school
Edit
Pranking and eating
Time of birthEdit
December 13, 1993 1:15pm. 15 minutes after Eva.
EducationEdit
Poor